Ponte Vecchio is undoubtedly one of the most ancient and famous symbols of the city of Florence with its origins dating back to ancient Roman times. It was the first wooden bridge to cross the Arno River at its narrowest point and the only bridge in this Renaissance Tuscan city that survived the 1944 German bombing during the World War II.




Damaged several times by fires and floods, it once completely destroyed in 1333 by one of the most disastrous floods in history. The bridge was then rebuilt in 1345 by Taddeo Gaddi (a student of Giotto di Bordone) on three solid and innovative arches, resting more stable and deeper, making it more resistant to the violence of water. The Ponte Vecchio Bridge is an architectural work that managed to survive even the last disastrous overflow of the Arno River that brought Florence to its knees on November 4, 1966.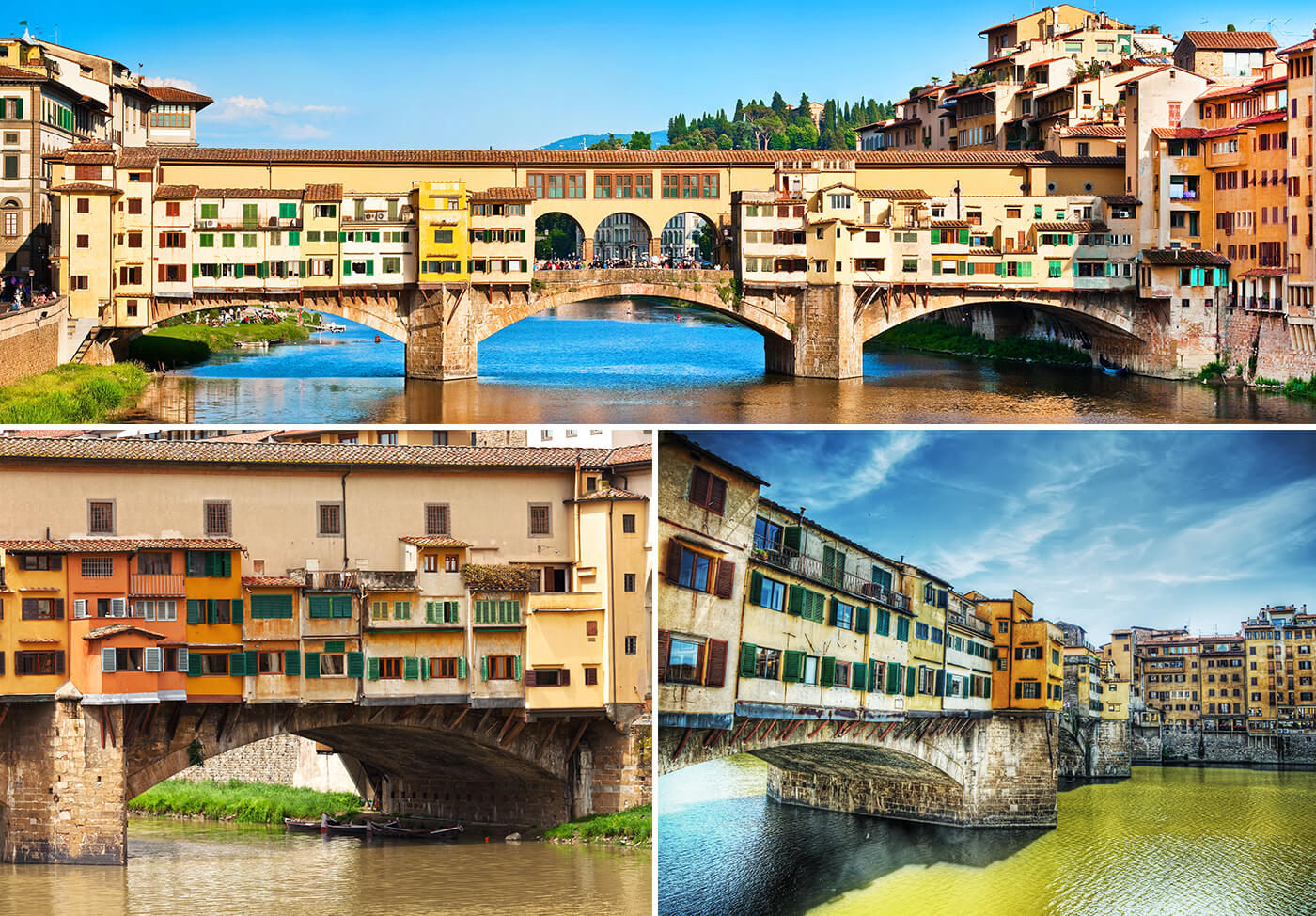 During the mid-1400s, the bridge was filled with meat, fish and vegetable merchants who would sell their goods to locals. They were given permission to build small shops atop the bridge, so that they could strategically throw excess waste directly into the river, without loitering and flooding the surrounding streets of the city.




In 1565, architect Giorgio Vasari was commissioned to build an elevated corridor on the bridge to join the new grand-ducal residence of Palazzo Pitti to Palazzo Vecchio, passing the Uffizi. This was a meant to be a passageway for newlyweds Francesco I of the Medici and Giovanna of Austria, in order to allow them to move freely from one home to another without running any risk of danger. The passageway, passed into history as the Vasari Corridor and is half a mile long, built in just five months. In 1593, the shops were replaced with a different type of vendor and goldsmiths and silversmiths soon took shop, replacing produce and meat vendors - a more elegant and appropriate homage to the noble Medici Family.




In 1901, a bronze bust was erected by the great Florentine master sculptor and jeweler Benvenuto Cellini, by sculptor Raffaello Romanelli. It stood at the center of the bridge, on the panoramic terrace overlooking the Santa Trinita Bridge. Ponte Vecchio is undoubtedly a place deep-rooted in history, so much so that it is impossible to list all the many historic moments the bridge has seen. But if you decide to visit this wonderful corner of Florence, you will not only get a chance to revisit fascinating events related to history, but you can also be sure to appreciate the priceless beauty this bridge has brought to the urban landscape of Florence.
"The photos on this site are owned by users or purchased from image banks"