The Burning Man Festival is one of the most famous events on the planet and it takes place once a year in the USA in Black Rock, Nevada. Every year tens of thousands of people come together to celebrate art and creativity over a period of 8 days just between August and September in celebration of Labor Day. The festivities end with an enormous bonfire where a huge stuffed puppet is burned, hence the name burning man.




Burning Man has been a tradition in Black Rock since 1991, but the first event took place in 1986 when about 30 people got together to celebrate the summer solstice, burning a 3 meter high stuffed puppet on the beaches of San Francisco. That was the beginning of the gathering of artists from everywhere, equipped with camp gear and everything necessary to beat the 104° temperatures. It's also a festival of no phones as there is no phone service in the area.




Black Rock City is the name of this makeshift city which is born and disappears in just a few days. Everything is possible as long as you respect the community's rules. The guidelines are rigid and include the following: the use of money is forbidden, barter or donation is the only form of exchange. You have to be self-sufficient, bringing with you food, water and even electricity. There are no stores except for those that sell ice and coffee. Civic and environmental responsibility is another very strict rule of this festival. Participants have a handbook at their disposal which details the principles and ethical aspects which need to be followed during the festival.


The event always takes the form of a giant semi-circle, representing the celebration of art and personal expression, creating space for small creative installations for anyone who has a project, theater performances, concerts , yoga classes, exhibitions, music and dj-sets. The theme changes every year and is announced in advance on Burning Man's web page.


This mega festival has become extremely popular over the last few years and gathers together more than 70,000 people a year, attracting eccentric people from just about everywhere, including VIP guests who often arrive by private jet, stay in luxury campers and even have a wait staff. In order to meet the needs of this growing VIP list, there have been entire zones closed off, creating small "high-end neighborhoods" devoted exclusively to very wealthy campers. It is true that everyone can participate, but it is also worth saying that 2017 tickets went for $425 a person.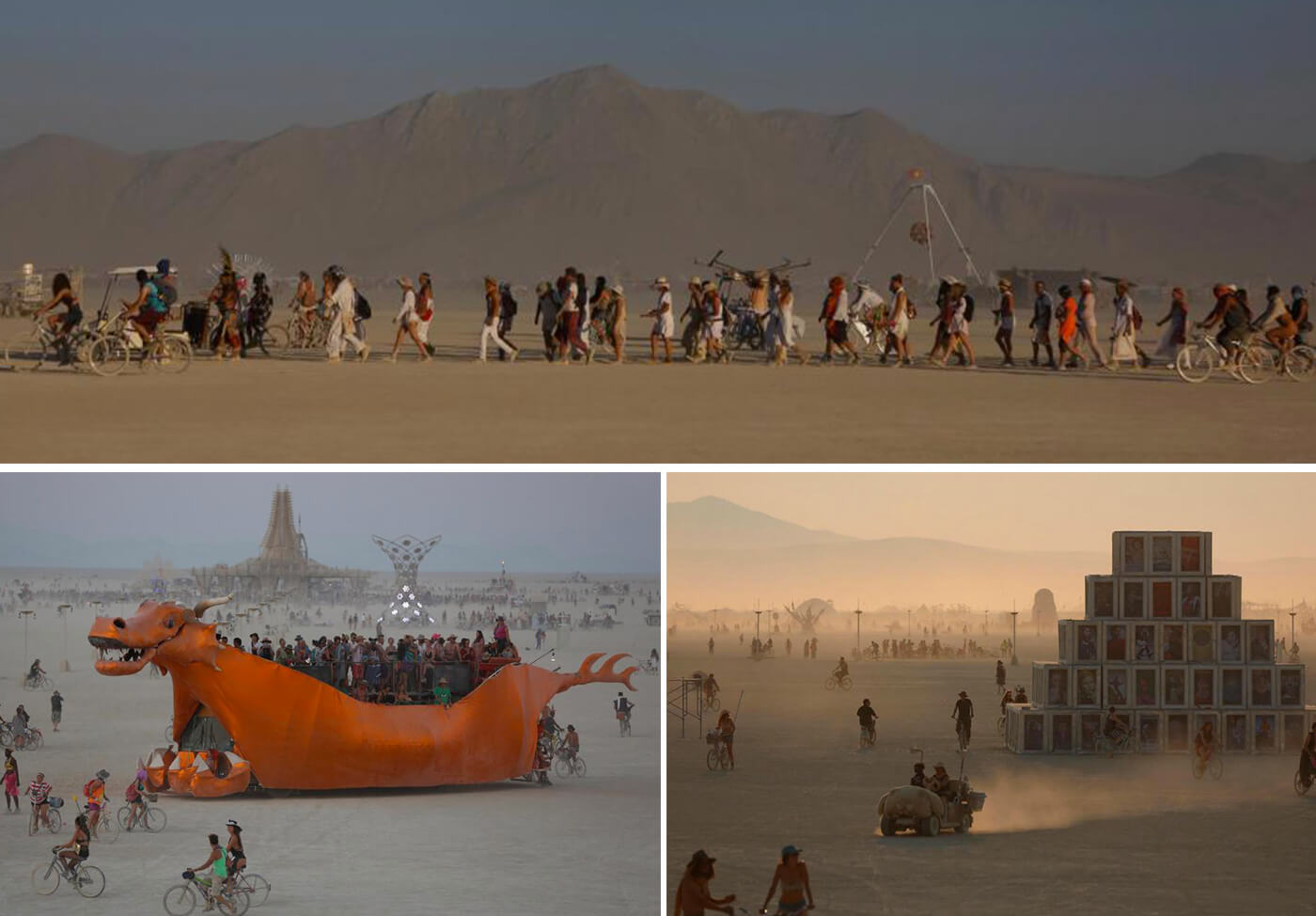 Many celebrities such as Susan Sarandon, Katy Perry, Paris Hilton and Cara Delevingne have also taken part in the event, as well as tech VIPs including Mark Zuckerberg and Jeff Bezos. Black Rock City attracts all social classes as it is a place which abides by common principles, where the rules apply to all: old and young, rich and poor. Many find contradictions in this mission, but the sense of the festival is just that - anarchy against precise rules. And when it is all over, guests leave no trace behind.


"The photos on this site are owned by users or purchased from image banks"