Located in Dubailand, near the Arabian Ranchesa in Dubai, the Miracle Garden opened on Valentine's Day 2013 and is a true oasis in the desert.

With its 72,000-square-foot surface, the Miracle Garden is the largest floral garden in the world with a wealth of more than 45 million different species of flowers, forming some of the most imaginative compositions ever. Some of the installations can take on spectacular shapes of floral hearts, stars, igloos, pyramids and much more.




This heavenly garden is a true embodiment of colors, which only compliments the image of Dubai of majestic cityscapes, skyscrapers, gorgeous hotels and superb attractions.

This attraction only adds to this, being even more interesting and innovative with the "drop" irrigation system, a technical miracle made possible by intelligent recycling of waste water that avoids evaporation and saves water and energy up to 75%. An oasis in the heart of the desert with high eco-sustainable value.




At its opening, the garden stretches over an area of 21,000 square meters, but after 4 months of work, the second phase of the project led to the creation of new attractions. Today, the Miracle Garden has a huge parking lot, two mosques (one for men and the other for women), shopping centers and hospitality facilities of all types, as well as new floral installations including a very special "butterfly garden".

Dubai wanted yet another record with the butterfly garden which was inaugurated on March 24, 2015 – they wanted to build the largest garden covered by butterflies in all the world. Nine cupolas of climate controlled glass hosts 26 different species of butterflies which fly throughout the domes above visitors, giving them a wonderful feeling of being immersed in nature without either disturbing the other. You can find a true lifecycle of butterflies and their miraculous metamorphosis.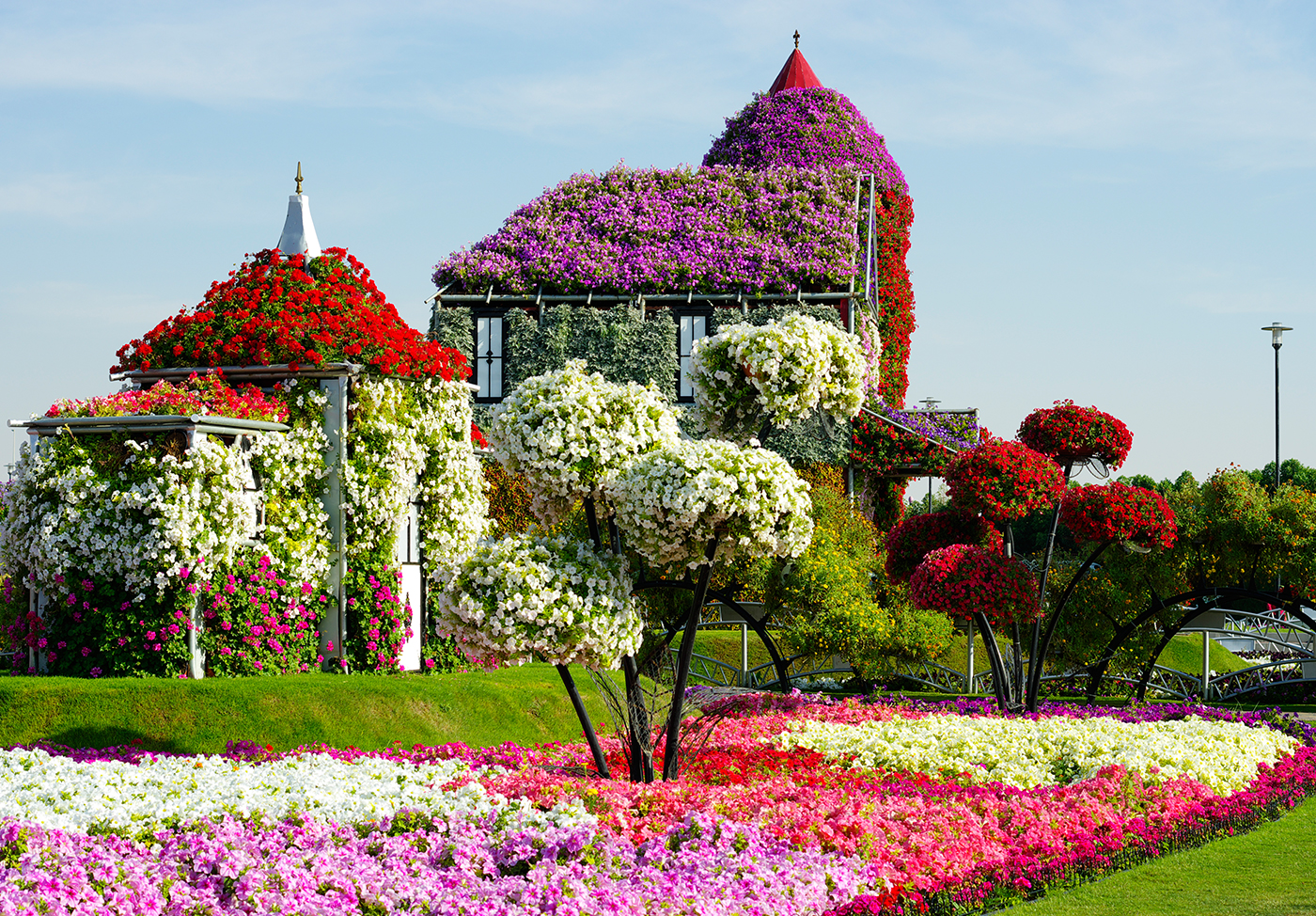 But that's not all. Another important attraction is the floral wall that measures half a mile in circumference, making it into the list of candidates competing for the Guinness Book of World Records for the world's longest flower wall.

Another wonder of this garden is that of its continuous transformation. Every change of season brings about the renewal of the floral compositions, offering guests an original experience each time they visit.

You have to visit this garden to fully understand why the name Miracle Garden is so perfect for it. It is indeed a natural miracle.


"The photos on this site are owned by users or purchased from image banks"